The Map Window Settings is used to set the title, dimensions and coordinate system of the map.
Here is the Map Window Settings icon:

Here are the main sections of this dialogue:
- Title,
- Description,
- Size,
- Window,
- Projection.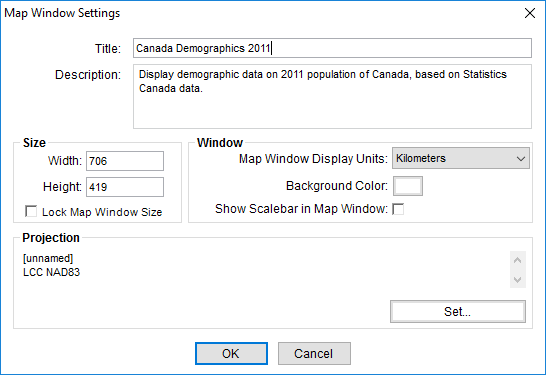 Title

The Title is displayed in the top bar of the published map.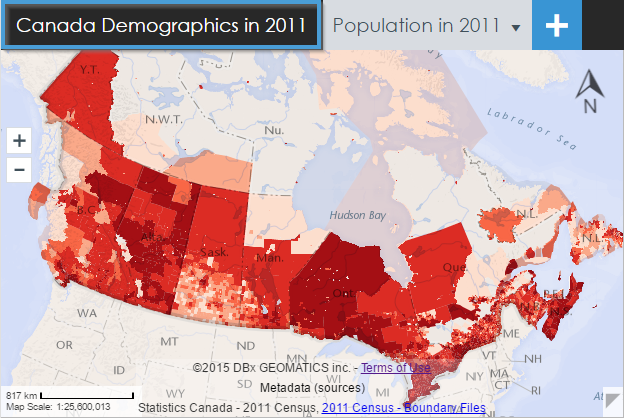 Description

If you publish your map locally, the Description is displayed in the Metadata panel if the Metadata (Sources) Window option is checked in the Map Interface tab of the Viewer Configuration dialogue. To learn more about the Metadata, click here.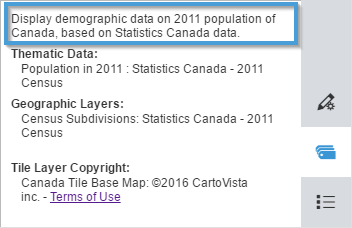 If you publish your map to a portal, the description text in the Metadata panel has to be defined in your Map Details in the portal.
The description will also be presented on the pop-up of your map (onboarding)

Size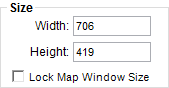 You can determine the map window size in the CartoVista Publisher. Note that the published map size is independent of these settings. The real size of the published map depends on your browser window.
Width: Determines the map window width in pixels.
Height: Determines the map window height in pixels.
Lock Map Window Size: Prevents from accidentally resizing the window.
Window

Map Window Display Units: Defines the units used to display linear information such as the map width. Choices are kilometres, meters, miles, feet and inches.
Background Color: Opens the Color Picker dialogue to define a background colour. The default background colour can be set in the Map Window tab of the Preferences dialogue. To learn more about the Color Picker, click here.
Show Scalebar in Map Window: Displays a scale bar in the bottom left corner of the Map Window in the CartoVista Publisher.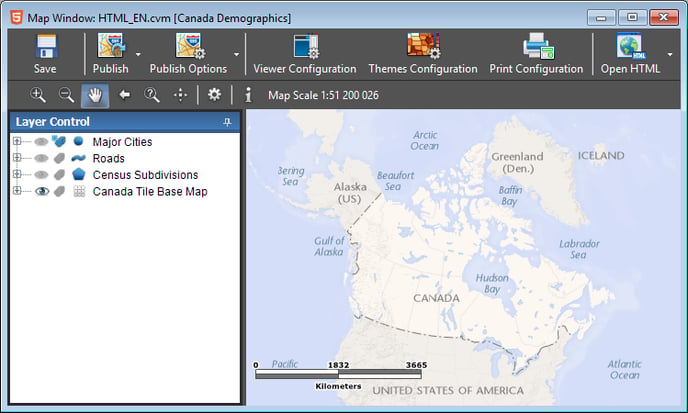 Projection
The Projection section displays the current coordinate system of the Map Window.

If you want to change the map coordinate system, you can click Set to display the Coordinate System Selection dialogue. Note that the projection can't be modified if there is a tile provider or a server layer in your map window, because the projection of these layers determines the map's projection.