This article is dedicated to super administrator users. Super admins can manage tenants and super admins list and have access to Server logs.
Click on the User icon on the top right-hand corner to access System Parameters: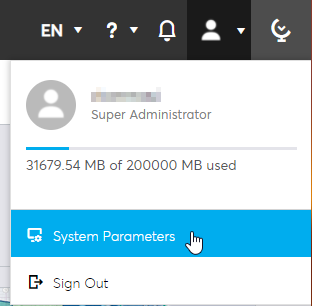 System parameters allow you to:
Manage tenants
The Tenants list show tenant name, tenant URL code, license expiry date and whether the tenant is active or not. Tenants can be deleted in the Actions menu.
⚠️ Please note that deleting a tenant will delete all maps, data and users stored on this tenant.
Click on a tenant to open the Details panel of this tenant.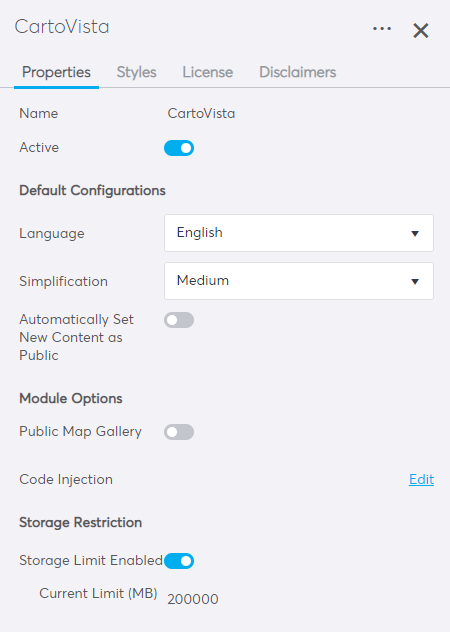 Properties: define default parameters, manage modules and storage. If you want to know more about language configuration, click here.

Style: each tenant can be styled and customized to fit your needs:

Logo: the logo will appear on the Log in page and in the top left corner of the tenant to replace the CartoVista logo.
Logo Icon: the logo icon will appear in the dropdown list to switch from one tenant to another (super admins only)
Sidebar Image: an additional image can be displayed at the bottom of the left panel of your tenant.
Styles and colours: change the colour scheme of the tenant.
License:

Manage the tenant's License Code and the Publisher License Code.
Get information on the content of the license (domains, expiry date, storage, users, modules)
Restrict User Domain: restrict email address domain of users for the tenant. Only users whose email address matches the list of restricted domains will be able to connect to the tenant.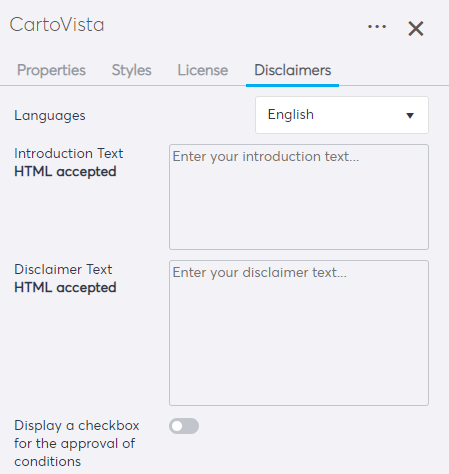 Add a disclaimer that will be added to the log-in page.
Manage Super Administrators
The Super Admins list is where you can add, remove, or edit parameters for super admins. Super Admins have access to all tenants and can edit all maps, data and users on the server. They are not listed as users in each tenant.

Server logs
Server logs can be used to trace errors on the Server. The timestamp and the tenant name allow you to see where and when the log message was created.
Logs can be downloaded with the download icon
in the top right-hand corner.