The Tile Publisher module allows you to create distinctive tiled base maps that give your application a different look and feel. You will benefit from a high level of cartographic flexibility (labelling, etc.) available in the publisher.
Instructions
You need a license of the Tile Publisher module to be able to create those tiles base maps.
1. Open the Publisher and go to File > New > Tile Window to get started.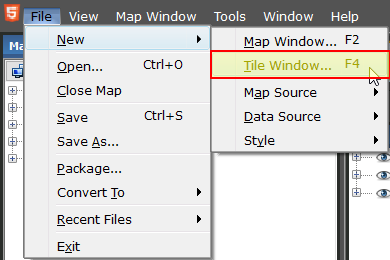 2. Create your map by dragging and dropping layers in the Tile Window.
3. Adjust the styles, labels, visibility ranges…as you do with your GIS software.
Looking for inspiration? Open an existing .ctm file from the CartoVista samples available @ C:\Users\Public\Documents\CartoVista Sample Data\Base Maps (CTM).
4. Click on the Generate Tiles button to create your tiles.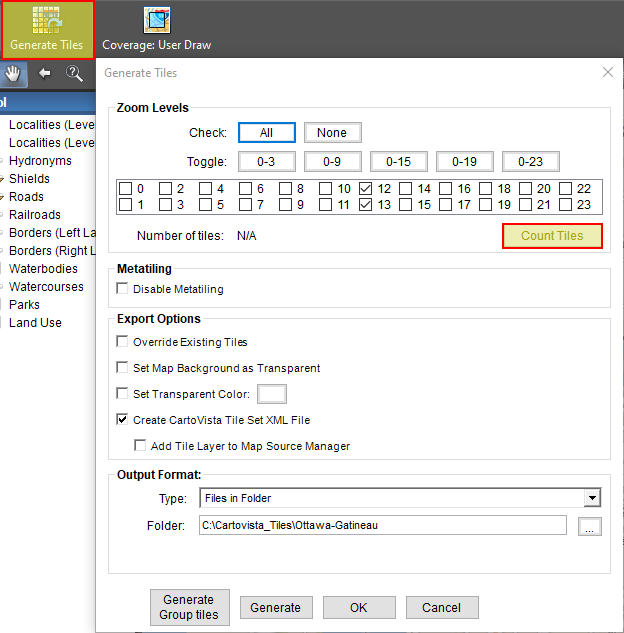 5. You need to choose the zoom levels you are interested in. Use the Count Tiles button to evaluate the number of tiles before generating them.
You can decide to export your tiles on a portal or locally.

After generating your own tiles, add them as a new available tile base map in the Tiles Provider tab of the publisher.