The Composite Variable Scoring Analysis, the new feature accessible directly from the CartoVista viewer allows you to create and edit scores whenever you want
You can edit your scores by adding variables to your calculations, but also by changing the weight of these variables directly from the CartoVista viewer.
1. To add a variable, click on the "New Variable" option in the Composite Variable Scoring Analysis panel on the left side of your viewer.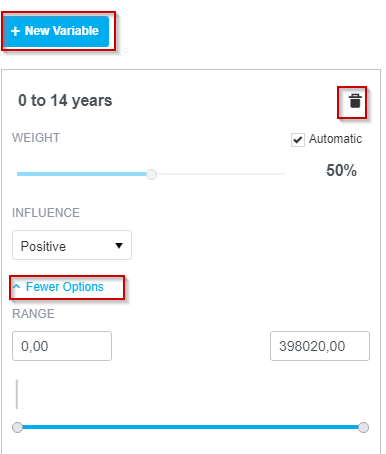 2. The trash can icon allows you to delete your variable if you want.

3. The "More Options" dialogue gives you the option to choose the range setting for your map display.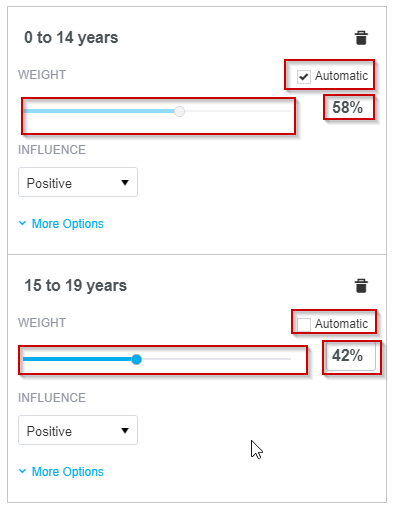 4. Once you have selected several variables, the calculation of the weight of these variables on your score will be done automatically with the average of the number of variables in percentage.

If you want to change this manually you can enter the desired percentage on the box where the number is. You can also change it using the progress bar. The new score will be calculated instantly.
You can choose to have a total that is not out of 100 by unchecking the "automatic" option.
5. You can change your calculation method (quantiles, jenks, etc.). The ranges and colours of your score on your map can also be customized in the legend of the viewer at the bottom right of the window.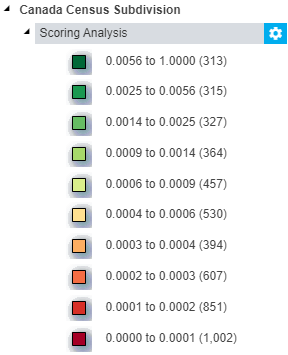 6. To view the analysis, or delete it, simply click on the "..." on the composite variable analysis panel. Both options will be offered in the dialogue that appears.